With spring around the corner, the West Side Community Garden (123 West 89th Street) has shared details about two of its beloved annual events: Music in a Garden and the Tulip Festival!

Advertisement



Judith Robinson, the garden's president, tells us this year's Tulip Festival will take place on April 16, 17, 23 and 24, and that garden members will be available from 10am to 6pm each day to answer questions about the flowers. "The week between these dates is probably the peak of tulip season," she says, but also mentions that they'll be in bloom "from approximately April 10 to May 6." If you visit the garden every few days, you'll notice different tulips, as each variety may only last for a week or ten days.
Robinson also tells us that visitors can enjoy a variety of other spring bulbs between mid-March and early April; "first the small bulbs such as snowdrops, crocuses, squills, winter aconite, etc.; then the many types of daffodils and hyacinths, and finally the earliest tulips."
Those planning to attend the garden in mid to late April will find fewer crowds on weekdays.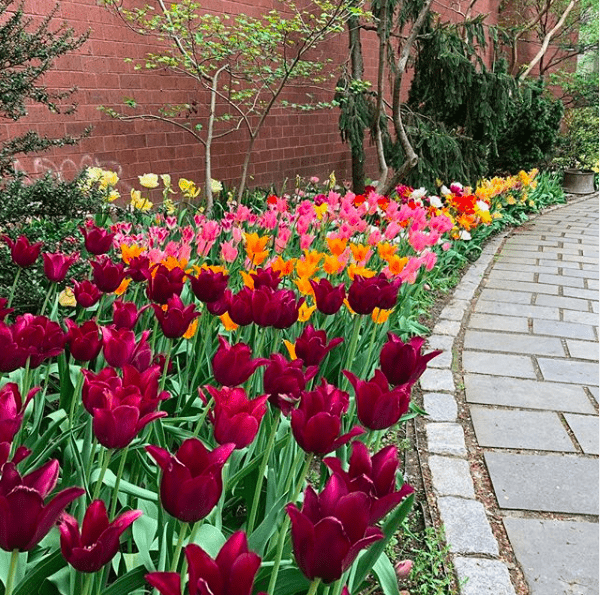 Advertisement



Music in a Garden will be kicking off on May 22. All performances will take place on Sundays, beginning at 6pm, and are free to the public. Here's the schedule:
We have Randa Kirshbaum to thank for this wonderful ensemble of musicians. Kirshbaum's been curating the Music In A Garden artist lineup since 2008. "I've been living and working in NYC for about 45 years," she told us. So many of the artists chosen to perform have either crossed paths with Kirshbaum in the past or have been recommended by her peers.
The West Side Community Garden is free and open to the public every day of the year, weather permitting, and is one of the easiest places to find beauty and tranquility on the Upper West Side.
To learn more, please visit westsidecommunitygarden.org.