A group of friends have been searching the city in hopes of finding their friend, Alyssa Olivier, who went missing on August 6. Alyssa's family has also hired a private detective. Thanks to recent video of Alyssa on the UWS, they are one step closer to finding her.
Advertisement



One of the women helping with the search is Sophie Slater, who says she "was a classmate with Alyssa at the Cooper Union in 2002. She was a transfer student and we graduated a year apart. We reconnected a few years ago, but Erin has been a best friend with Alyssa."
Erin Martin's Facebook post describes Alyssa as "an incredibly sweet mom who is into yoga, mediation and art."  She goes on to say that she is shocked to see her friend in clear distress and hopes that with more eyes around the city looking for her, she will be found.
Sophie said that Alyssa does not have her phone, wallet or any other ID on her, but has tried to call her family from a public phone. Unfortunately, the family member missed the call and the voicemail left was unintelligible.
Erin and Sophie have asked anyone who have seen her to reach out to Detective Rock Pereira at (516) 376-0098 .
Here are some of the things to look for:
– Height is 5'3″, weight is 115 lbs
– Hair is light brown
– Blue eyes
– May be wearing a black hooded sweatshirt with a black baseball hat
– May be wearing a dark Reebok backpack
– Has a small white kitten with her
– Might be slightly limping
Sophie said that they have reason to believe she will come back to the UWS as she has been spotted here the past two Wednesdays. In several videos, she can be seen yelling and kicking at people walking down the street.
Erin notes that approaching Alyssa with your cell phone to take her picture could upset her, so if you see her, please call Detective Rock Pereira immediately.
Advertisement



Erin and a group of friends are in the city and have been responding to tips. Sophie said that on Tuesday Alyssa was spotted in the Union Square area, but by the time friends arrived, she was gone.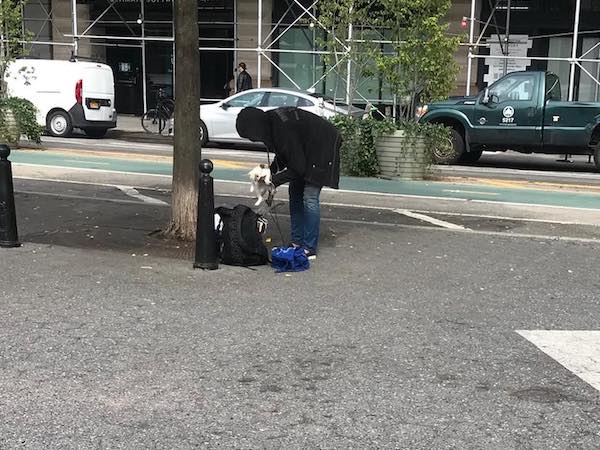 Detective Rock Pereira can be reached at (516) 376-0098
. If you see Alyssa, please call.